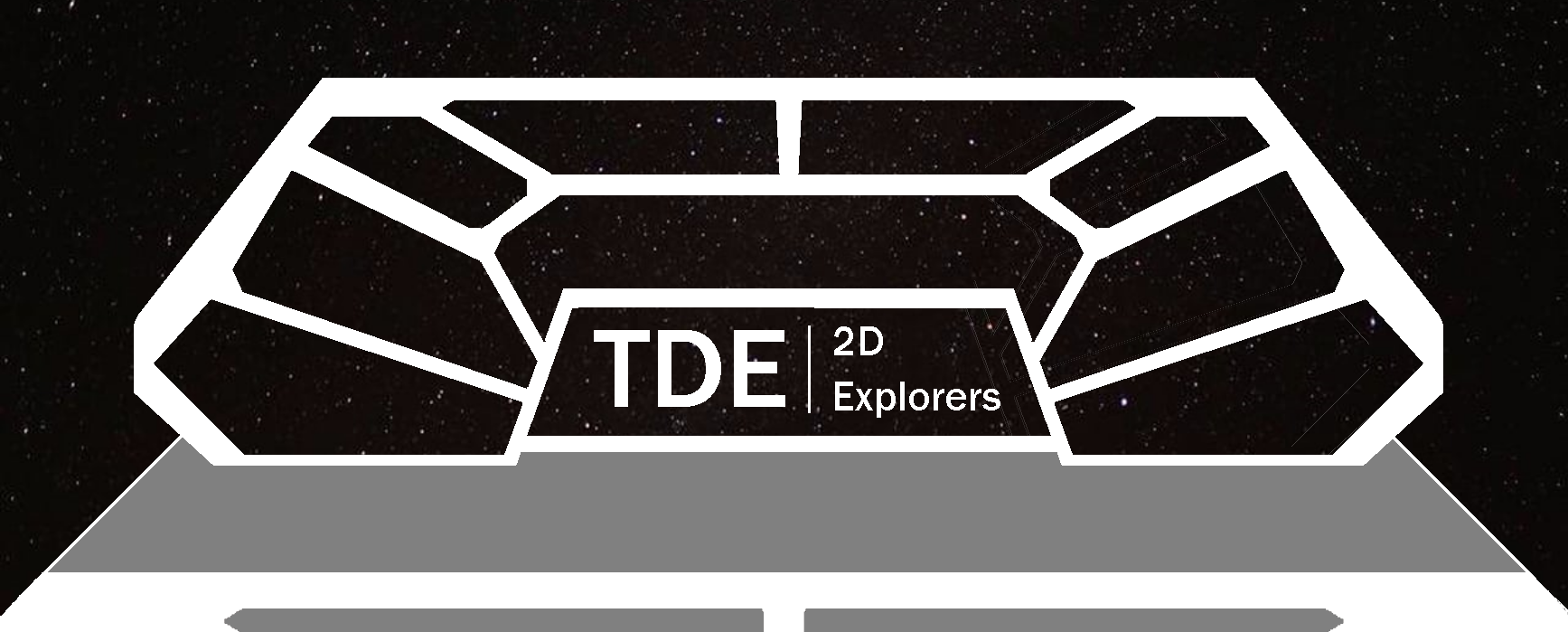 2Dimensional Explorers
A downloadable game for Windows
Hello!..
..and welcome to the 2Dimensional Explorers! A game which takes your resource management skills, your tactical prowess, and your imagination to another level.
In 2Dimensional Explorers the player is thrust into an open universe complete with stars, planets, moons, gas clouds, and more! Every planet has a story - and every story progresses your own.
Entirely community controlled! Comment your ideas for this base game and I'll add them through-out development.

Current Update Released
Combat - Star indicator(Replaced Map) - Reworked Sounds

(2017-11-30)
- Added Combat! (Very Early!)
You will not be able to use weapons onboard to eliminate randomly spawning enemies (Currently very early! Enemy ships are uniform - variety will be added in next update)
- Changed Map > Star Indicator
Up until now everytime you spawned a universe, you would have no clue which direction to travel - Not anymore! - Now just simply press "M" and your HUD will show all stars and their directions.
-Reworked SFX
Fixed Crackling sound in ambiance.
(In this update I also redid the button layout in the bottom left corner to make it look better)

Features:

- Completely random universe generation.
Everytime you press play - a new and unforgiving universe will be generated before you.
- Fully customizable ships
With a large array of modules to choose from - any ship can be improved upon. Add and remove modules at will but watch costs - market prices won't always agree with your vision.
- Properly prolonged space battles
Getting into combat isn't the goal here - surviving it is.
-Save/Load game
Very basic at the moment - but working functionality so you can generate a new universe but keep your old play-through. (Updated from yesterday!)(more features coming soon).
-Planetary interactions/Harvesting
Added a basic method of harvesting from planets - Your fuel will go down to simulate release speed (subject to change), also gathering metals/exotics/scrap from planets works but is not currently implemented. Will add in next update(Updated from yesterday!)(More features coming soon).

-Stations!
Purchase goods for construction and travel. Stations will be orbiting certain planets. Spawn rate is medium low right now so they are rare. Next up is combat.
-Combat!
Whether it be for defense or offense - your weapons will always be there for you! (A major WIP - Current version not represent final release version's combat system - "I just added this because it was next in line for features, further work will and needs to be put in!" -Dev)
Upcoming:

-Multiplayer
First plan - get all of this wonderful artwork (oh god) working in multiplayer so players can embark together to conquer the universe.
-Saving/Loading functionality
Unfortunately due to my lack of experience in the matter - saving and loading will be disabled for testing purposes (only for dev release!) (Updated! See current features!)
- Large selection of ships
Whether you prefer to fly as a support fighter - or command a fleet of frigates - the player decides which career to follow. (Currently not working fully but IS present in game - other ships require component/turret pad placement - will be released with upcoming "Stations" update.).
- Non-scripted encounters
AI will roam at random - Always be on the ready.(Currently disabled due to game breaking bugs - coming back in upcoming update)
- Full fleet command
Take control of an infinite amount of ships and become the ultimate force in the universe. Be warned though - your enemies can do the same.
- Planetary interactions
Each planet currently has its own temperature based on the distance to it's host star. In future builds - distances will be much further touched upon as colonization/industrialization is introduced. (Updated! See current features!)
- Building/Fortifying
As planetary interactions start to release - further building and fortifying solar systems and planetary bodies will also be introduced. That way your fleet has a home system to go to if they sustain a lot of damage.
Dream features:

-Interior combat
Run from the bridge to the hangar bays, fly your fighter into battle then back again to resupply as a boarding party departs.

-Introducing community ideas and designs/modding
Self explanitory - want to give you guys the ability to make this game what you want it to be.
--Much More

Currently the game is in near release development! (Game is released!)
All features implemented are rough but close to completion.

The way it works:
The Universe will generate a random number of Galaxies - which will in turn generate a random number of Solar Systems - which will in turn generate a random number of planets - which will in turn generate a random number of moons. Other dangers such as Gas Clouds - Space Beasts(in the works) - and enemies(currently only cruisers - fighters/stations/etc. are in the works) are also added in for the kicks and giggles.



Hello - I am Nandor - a 26 year old graduated indie developer working from home.
I hope you all enjoy the work I've put into this game so far. A "dev release" was just released to check it out in the discussion board!
Lastly - thank you to those of you who decide to support me in the end. I'm doing this solo so even words go a very long way.

Sincerely,
Bakos133
PS. Since I've been asked countless times before if this is going to be the final artwork for my game - my response is god no. My digital artwork is terrible compared to most so everything you see now is all just place-holders. I am looking to bring my game into the 2.5D scene with a huge update once more of the core aspects of are flushed out.
Download
Click download now to get access to the following files:
Dev Release(Galactic Orbits)(OUTDATED)
14 MB
Dev Release(Combat - Star indicator(Replaced Map) - Reworked Sounds)(>CURRENT RELEASE<)
14 MB